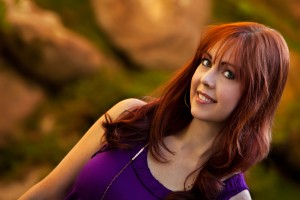 Hi, I'm Stephanie. I'm a forty-something woman who juggles being a wife and mother, along with a career that I love.  I also do my best to keep myself and my family healthy. Here is my story.
I grew up eating the SAD (Standard American Diet), and adored fast food and takeout.  My family constantly rotated burgers and fries, pizza and Mexican food. Domino's was on speed-dial. Sunday nights usually were home cooked rich meat-and-potato meals, a family tradition. I struggled with my weight as a result, and was dieting off and on from the age of nine.  This continued, painfully, for the next two decades. I put myself on fasting diets, frozen yogurt only diets, calorie restricted but only on junk food diets, and worse. I was absolutely an emotional eater, and my weight, along with my moods, went up and down. I was often heavier than my 'skinny' friends, I felt sluggish, and was very insecure.
Finally after researching a little about nutrition, I decided in my late 20's to become a vegetarian. This was about the same time I became a feng shui practitioner, when I wanted to have more meaning in the interior design world I had been working in.  As my spiritual journey became more important to me, I decided not to eat meat out of respect of life for the animals.  So I took up soy as my protein substitute.  Soy shakes for breakfast, often for lunch as well, and many dinners including some kind of tofu.  At the time, I knew nothing of GMOs (genetically modified organisms) and the dangers of overdoing soy.  Although other factors were likely involved, (such as a painful divorce from a man who had alcohol and depression problems; I felt like I was not safe to speak) over time I developed a large nodule on my thyroid.  This resulted in surgery, removing the left half of my thyroid, as I was told the hurthle cells extracted from two painful biopsies were very likely cancerous.  Thankfully, a second surgery to remove the other half wasn't required, as the pathology report came back as benign.  I knew at the time that there had to be a better way, but I couldn't seem to connect with the more natural approach I was searching for. And I'll now always have the scar on my throat as a reminder of that part of my journey. I can now actually say I am grateful, because it helped me to find my voice.
This started me on my path of really studying health and nutrition, which became increasingly fascinating to me.  In the mean time, as a mom, and entrepreneur, I was burning the candle at both ends, and crashed out my adrenal glands.  I also realized that something else was off, and found that my hormones were very low.  I learned about bio-identical hormones, and the importance of self-care.
Finally feeling that I had my own diet and supplementation figured out, I was diagnosed with gluten intolerance.  Enter gluten-free living.  This diagnosis helped me to rediscover my love of cooking healthy, simple and delicious meals, which I share with my clients.
I feel that I have been through all of these challenges so that I can help other people.  I have done a lot of work to figure out what works for me, and to get to the point of feeling healthy and strong.  My own diet is plant-based (although I do very rarely eat fish and eggs, I do not consume other animal products) and gluten-free. I now eliminate all possible toxins from my home, including those from food, cleaning products, and beauty products. The result is feeling fantastic, and often being told that I look younger than I am.  I maintain a healthy weight, about 35 pounds less than when I lived on junk food, without counting calories or feeling deprived. And I eat. A lot. I truly love food.
As a board certified Holistic Health Coach, I help my clients accomplish their own diet and lifestyle goals, to live their healthiest and most vibrant lives.  Coming from an interior design background, and being a Certified Feng Shui Practitioner, I also stress the importance of environment to my clients.  I have noticed that this area is often overlooked, and is vital to success.  I have developed my programs addressing four key areas: Body, Beliefs, Self-Care, and Environment.  I believe it health is a total lifestyle, not just a "diet".  This results in simple changes that are holistic, lasting, and fun.
Random things about me
I absolutely love to curl up and read recipe, self-help and health books, but rarely read novels.  I am a total self-work junkie. Love that it helps me bring more to myself, my family, and my clients. Travel?  Can't get enough.  I'm pretty safe typically, but something about getting away turns me into an adrenaline junkie.  I have the worlds messiest dog, Thayer; I still love him. (For the record, labs drool and shed like nothing else, especially this one. If you see me without fur or drool all over my clothes, it means I worked REALLY hard to get everything clean.) We also have an adorable and feisty cat, Shiva. We found her on the freeway, my husband rescued her just before she ran into traffic. We're still just "fostering" her 5 years later. (She's mine, don't even try.) I'm so grateful for my wonderful husband; he's truly a keeper, for ever so many reasons.  He won me over with his humor, and still makes me laugh every day. (He's mine, don't even try.) I'm Leo with Aries rising, and have an Aries moon. (I can be a bit fiery.) I'm an INFP, but so close with being an INTJ, I think I'm both (which means I'm also INFJ and INTP). I hit the lottery with my daughter.  Seriously. She's bright, funny, sweet, beautiful, and at 14, actually likes me still. I love hearing her tell her friends health tips.  (She listens!)  Yoga keeps me sane; I have to hit the mat at least 3 times a week, preferably more. And, I always have a stash of (organic, fair-trade) dark chocolate. And I will (probably) never give up coffee.
Professional Accreditations + Experience
Certified Holistic Health Coach

Member American Association of Drugless Practitioners
Member of International Association of Health Coaches
Certified Feng Shui Practitioner
Founded and ran

Staging Made Simple



Interior Designer and Decorator
High-End Special Events Planner/Coordinator
The list keeps growing, as I'm a learning junkie. More coming soon!
My purpose and passion is to make you look and feel so great that people ask you for advice.