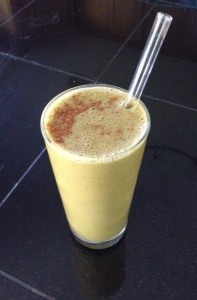 Since I've already professed my adoration for pumpkin, I thought I would share a recipe with you that I make often during the fall months.  It's rich in iron, vitamin A, potassium and protein, and you can make it in about two-and-a-half minutes.  This makes for a quick snack or meal that is very nutritious and tastes like dessert. My husband says he would much rather have this than a coffee house pumpkin spice latte, if that tells you how good it is, and this has NO REFINED SUGAR.
Vegan, soy-free, gluten-free, refined sugar-free
What you need:
Vitamix, Blendtech, or other high-power blender
Ingredients: (all organic if possible)
1 cup unsweetened vanilla almond milk (please, carageenan* free)
1/4 cup pumpkin puree (not pumkin pie filling)
1/2 frozen banana
1 or 2 T unsulphered molasses (high in iron, gives it more of a gingerbread flavor with more)
1 T raw almond butter
1 cup spinach (or just throw in a handful)
1 t pure vanilla extract
pinch sea salt
1 scoop vanilla plant-based protein powder (I recommend hemp, pea or rice)
few ice cubes (optional, I think it enhances the texture)
1 t pumpkin pie spice (or just use cinnamon, great to stabilize blood sugar)
1/4 t ground ginger (optional)
Just throw everything into your blender, and enjoy.  You can add a little more spice if you like a stronger flavor.  The ingredients in pumpkin pie spice are very warming, and ginger is great for digestion. So even with a couple of ice cubes, it still has a warming effect.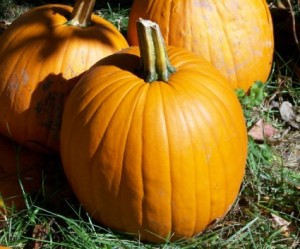 *A few words about carageenan: Although this is plant-based ingredient, (seaweed, actually), through processing it becomes an intestinal irritant for many people, myself included.  Both Whole Foods and Trader Joe's brands REFRIGERATED almond milk are carageenen free, the shelf-stable varieties in many brands tend to include carageenan.  More about this in a future post.  In the meantime, enjoy your smoothie!